Hello, welcome I'm the
Dr. Jonathan Cordero
I specialize in otorhinolaryngology and facial plastic surgery. You can contact me and I will gladly assist you

Schedule Appointment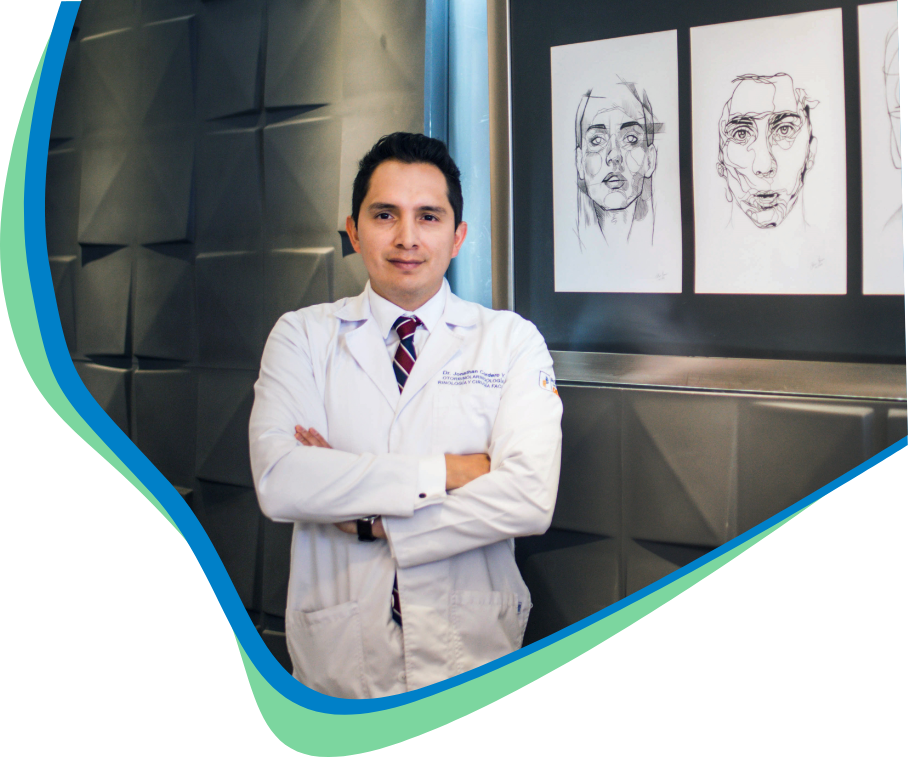 Facebook-square


Instagram

Dr. Jonathan Cordero otolaryngologist and Facial Plastic Surgery.

he is an ENT in Cuenca, Ecuador.

Specialties facial plastic surgery, Ultrasonic rhinoplasty, mentoplasty, blepharoplasty.

nose,
my specialties
Ultrasonic Rhinoplasty
This new technique for working on the nasal bones allows us a more controlled and
exact remodeling of the nasal bones, thereby achieving greater control over the results of the surgery.
mentoplasty
Mentoplasty is a simple surgery that consists of reshaping or increasing the chin with the
placement of a Silastic (Silicone) implant or prosthesis through minimal incisions. Each prosthesis is
adapted according to the needs of the patient, assessed with a thorough prior facial analysis.
blepharoplasty
It consists of removing excess skin from the eyelids with or without extraction of fat bags. It is one of
the aesthetic interventions that is most performed due to the great improvement that is obtained with a little
traumatic surgery and that preserves all the expression and mimicry of the patient.

Know a little more about me
Dr. Jonathan Cordero is a doctor graduated from the University of Cuenca. He specialized in Otolaryngology and Head and Neck Surgery at the National Rehabilitation Institute in Mexico City endorsed by the National Autonomous University of Mexico (UNAM). He has a Diploma in Rhinology, Paranasal Sinuses and Facial Surgery endorsed by UNAM and High Specialty in Rhinology and Facial Plastic Surgery endorsed by UNAM. He is part of the Mexican Council of Otolaryngology and Head and Neck Surgery, AC He participates in the Ecuadorian Society of Austro Otolaryngology. He has written multiple scientific articles, book chapters and is constantly updated by participating in national and international conferences as a speaker and participant. MATLAB Software: Revolution in Medical Science
Hospital Universitario del Río, office 310 (Third floor)
Hours:




Monday to Friday




3:00 p.m. to 7:00 p.m.
+593 99 285028 / 072459553 Ext. 2302
Leave me your message
For any questions or concerns, contact me leaving the following information, and I will be responding as soon as possible.